Stacey Tyrell, Pig Rock Bothy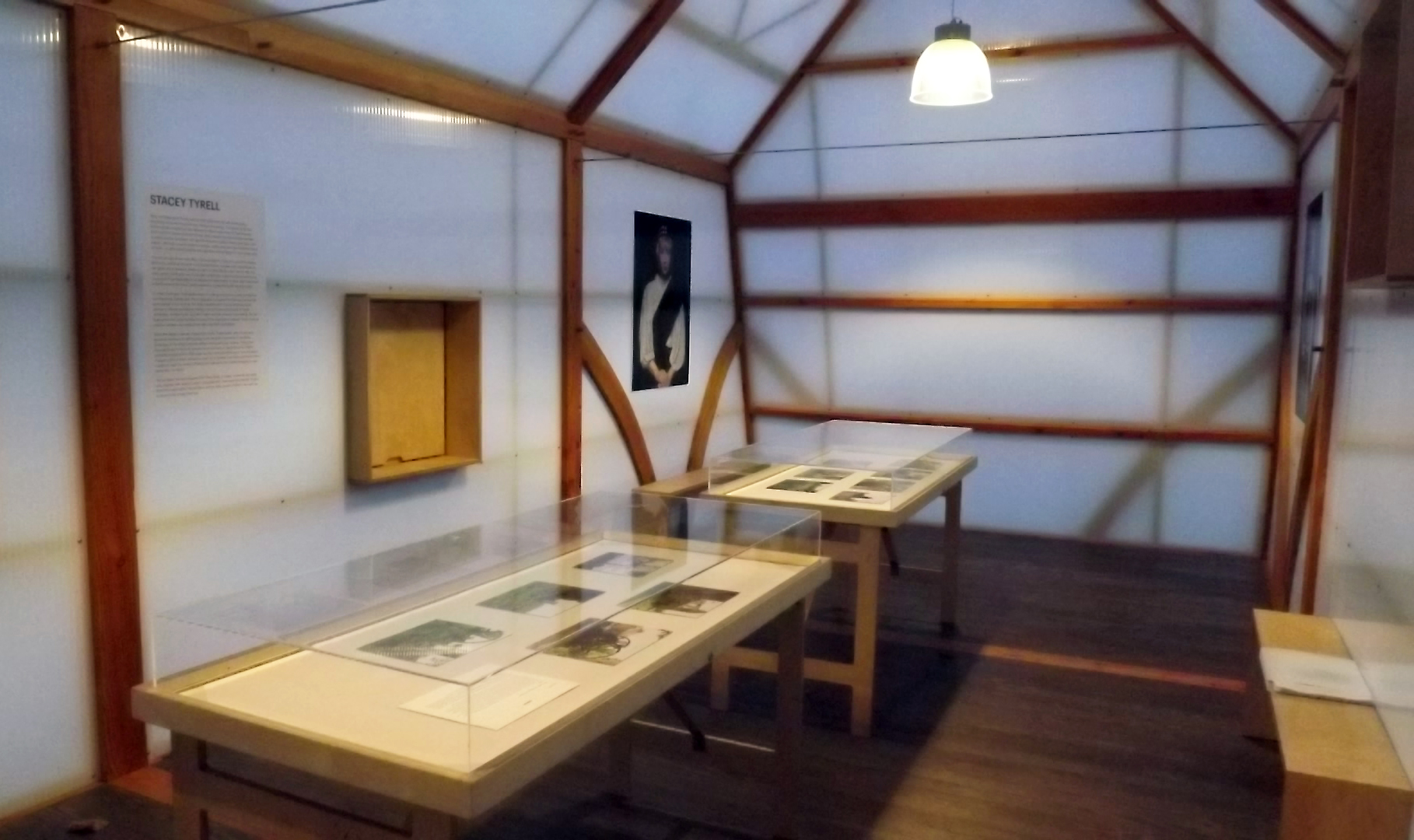 Stacey Tyrell Preview 20th November; Exhibition 21st November - 13th December 2015 Pig Rock Bothy, Modern One, National Galleries of Scotland
For this first presentation in the UK of Nevisian artist Stacey Tyrell, the photographic works displayed in the Pig Rock Bothy were selected from two series of work, Backra Bluid (2011-13) and Chattel (2008-present). Both series examines the historical links between Scotland and the Caribbean, through slavery, colonialism and industry, in abstract ways and through direct historical events, such as the Darien scheme. Forming the basis of her work is significant research and collecting of imagery and motifs, and visual mapping and responses to her home island of Nevis on return visits.
From the Backra Bluid series, on display are two works: Mara. 17yrs, in which the artist wears full Highland dress, as associated with Highland dancing: white blouse, kilt, a green velvet waistcoast, with a shaped basque and the regulation five Scottish ornamental buttons on each side. And Inghinn, 20yrs, in which she is seated, dressed in the same white blouse, with a Glengarry cap, tartan sash and kilt. 'Backra' is a term of West-African origin, used to refer to a white person, particularly one in a position of authority and commonly used during Caribbean slavery to describe the slave master or driver. 'Bluid' meanwhile is the Scots word for blood, used by extension to describe family ties and kinship. Through the series, Tyrell uses her own body, modifications, posture and dress to put forth questions about the Scottish men in her Caribbean ancestry, a fact that when raised verbally and in public, the artist has found to cause discomfort in its stark reminder of Caribbean colonialism and slavery. Using layers of make-up to create a white complexion is a complicated gesture, one that creates emotional responses, further amplified by her use of photography to make small tweaks and augmentations to her features, such as thinning her nose.
Tyrell's Chattel series documents Scottish-produced industrial machinery for refining sugar cane: discarded, strewn and rusting away in the humid climate of the Nevis landscape. The lack of physical presence in these photographs is haunted by the knowledge of those who built and transported such machinery, vis-à-vis those who were forced to work at its wheels and cogs. Stacey Tyrell was born and educated in Ontario, Canada, and currently lives and work in Brookyln, NYC.
In collaboration with MAP Magazine, two texts were produced to accompany the exhibition: 'Whose Gaelic Is It Anyway?: Identity and Perception' from Glasgow-based musician Cassie Ezeji, and 'Seeing Scotland: Gazes and Articulations' by Tiffany Boyle.